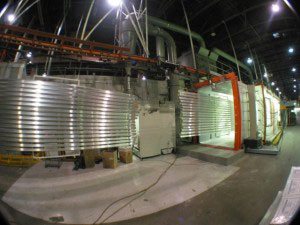 ACL specializes in powder coating custom solutions in Toronto focusing in the following areas; architectural aluminum, corrosion and decorative. Items as small as a pen and as large as a 10,000 pound pipe are successfully and economically coated in order to withstand hostile environments including under-sea, mines and paper mills. Powder coating is also excellent at withstanding exposure to chemicals, inclement weather, humidity, abrasion and other conditions detrimental to performance and appearance. Powder coating decreases the wear and tear of the finish, resulting in decreased maintenance cost and greater life cycle of the parts.
ACL has the ability to coat any item in single to multi-coat electrostatic powder coating and single and multi coat fluid bed coating. ACL Toronto is also an approved source for military and automotive coatings. ACL is truly your one stop coating shop in Toronto.
ACL distinguishes itself from our competition in three main areas; (1) state of the art equipment, (2) world class pretreatment and (3) processes which result in a higher quality finish and longer life cycle.
State of the Art Powder Coating Equipment
ACL has invested in state of the art powder coating equipment that is second to none in the industry. This affords ACL to provide the ability to provide premier quality finished products and services to our customers at an economic price in Toronto. Our conveyor coating lines handle all shapes and sizes up to 35 feet long, eight feet high, and four feet wide in medium to large quantity batches. ACL also has several batch systems in place to handle larger sizes and/or smaller quantities. In addition ACL has installed high quality spray booths to ensure that all our custom jobs received the highest quality, workmanship for maximum life span in Toronto.
Quality Powder Coating Methodology
Electrostatic Process
ACL is pleased to offer our customers the electrostatic powder coating process. ACL utilize the latest generation of automatic ITWGema PLC controlled equipment with parts scanning and quick color change This equipment allows ACL to ensure that it provides their customers with consistent high quality powder coating services.
This state of the art technology allows ACL greater flexibility in terms of coating applications and faster turnaround time on parts. ACL has the technology and processes to complete your powder coating jobs with quality and consistency. ACL is your powder coating expert in Toronto with a proven track record in the industry.
Fluid Bed Process
In addition to the electrostatic process, ACL offers the most state of the art fluid beds dip systems in the industry. We have been providing our customers the fluid bed process since the 1960's in Toronto, which makes us the foremost expert in the fluid bed dip process. ACL has designed automated equipment in This affords better quality and accurate repeatable results along with consistent high quality powder coating services. our customers' specific requirements. It is this flexibility and innovation which sets ACL apart in the industry. In addition ACL can design and build equipment for your premises based on your custom needs.
Pretreatment
A key component of our coating procedure is the preparation of the metal substrate to enhance bond strength, which ensures lasting protection and appearance. We are equipped for aluminum conversion coating, five stage iron and zinc phosphate with reverse osmosis, grit blasting, abrasive tumbling, steam cleaning, chemical etching and phosphatizing articles of all shapes and sizes. ACL has designed an automated wheelabrator system to automatically blast pipe for all industries. Our project managers are skilled in determining the proper procedure to achieve optimal results for your job.
Back