PipeViper Brochure
What Customers Say About Us
The PipeViper Coating Removal *patent pending*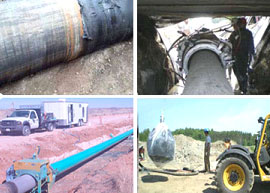 PipeViper is the only cost effective and portable coating removal system in Toronto that efficiently addresses all environmental and health and safety concerns in removing virtually any existing coating on live or depressurized oil & gas pipelines.
This patent pending process removes all coating, cleans the porosity of the pipe, contains and properly bags wastes to meet local environmental standards.
Pipeline Integrity Services Offered
When Coatings Start Failing
Traditionally, the most likely corrective action corrosion engineers have at their disposal is to increase the CP current. While this may alleviate some problems with pipeline integrity, it will also have negative side effects, such as:
Increased risk of coating disbondment
Increased risk of shielding
Increased operating costs
False sense of security
Decisions have to be made whether or not to
Rehabilitation pipeline
Replace pipeline
Combination of both
Abandon pipeline
PipeViper® System Benefits
An environmentally safe approach to coating removal.
Proven track record on efficiencies.
System is segmented and portable; therefore, easy to move from bell holes.
Encapsulates coating and debris; therefore, no friable/airborne are present even in asbestos removal operations.
Allows other trades to work within close proximity; therefore, maximizing overall multi-craft productivity.
Does not require typical ditch lining.
Under constant vacuum and all solids are separated through unique filtration.
Water is recycled for reuse.
Waste coating residual is processed into bags.
Provides a high level of surface cleanliness, which enables immediate pipeline integrity inspection to be performed without further cleaning.
Types of Coating Removed
Coal Tar Epoxy with Asbestos
Tape Wrap, Single Wrap
Tape Wrap, Multi-Layered
Epoxy Paint
Wax with Paper Wrap
Asphalt with Stone Guard
Polyurea – 30+ mil
Fusion Bond
PCB (Polychlorinated Biphenyl)
ISO 9001 / AS9100 Aerospace approved coater
Back