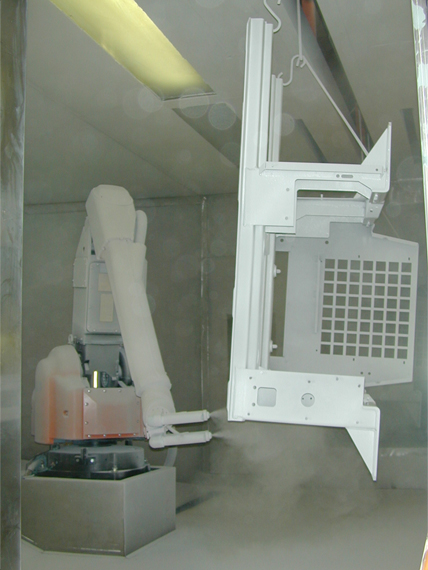 Powder coating is an environmentally friendly advanced method of applying a decorative and protective finish to a wide range of materials and products that are used in industrial and consumer applications.
How is powder coating applied?
ELECTROSTATIC
Electrostatic spraying is the most widely accepted powder application method and the electrostatic powder gun is the most important piece of equipment in this method. The powder gun provides a 100kv electrostatic charge to the powder. The charged powder particles adhere to the electrically grounded surface, which is then heated and fused into a smooth coating in a curing oven. The result is a uniform, durable, high-quality, and attractive finish. Powder coating is the fastest-growing finishing technology in North America and represents over ten percent of all industrial finishing applications. F.B.E and functional coatings can be applied differently. Please Inquire.
FLUID BED
The fluidized bed consists of two chambers separated bya specifically designed porous membrane plate which serves to uniformly diffuse air throughout the coating powder. In proper operation the powder will expand to more than twice its original volume, ready to accept preheated objects. The suspended powder behaves exactly like a fluid so that the particles distribute themselves over the entire surface of the component, even into the least accessible areas. When correctly applied, the parts are totally encapsulated without sags, runs or pinholes.
ARE THERE DIFFERENT KINDS OF POWDER COATINGS?
Powder coatings fit into two main categories: Thermoplastic and Thermoset
THERMOPLASTIC
A powder coating, which is capable of being repeatedly, softened by heat and hardened by cooling. These materials, when heated, undergo a substantially physical rather than chemical change. Typical examples are vinyl's (PVC), nylons and polyolefins.
THERMOSET
A powder coating that, when cured by application of heat or chemical means, changes into a substantially infusible and insoluble material. Typical examples are acrylics, epoxies and polyesters.
Back