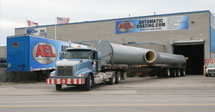 At ACL, we provide expert and versatile finishes for a vast assortment of industrial and consumer products. Because we are one of the largest and the most technologically advanced custom powder, liquid and blasting job shops in North America, we have the tools to take on just about any powder coating project, large or small. Explore the many advantages that make ACL Toronto a premium powder coating facility!
In addition ACL is a leader in field corrosion coating industry in Toronto.  ACL offers Mobile field coating services, Pipe Viper Coating Removal, Mobile Blasting, Pipe Rehabilitation & Containment stripping services in Toronto. Let our NACE certified field coaters handle all of your mobile coating requirements large and small throughout Canada, North America & Globally. Our field coating crew are certified to work with Enbridge, Union Gas, Transcanada, GazMetro & ElPaso. Our field crews are fully trained in all aspects of safety and compliant with ISN networld. We have established a reputation with quality workman ship that is second to none. We have received letters of accommodation from the major pipeline companies. Let Automatic Coating Limited Toronto handle your field coating jobs today.

The premier corrosion coating shop in North America & Toronto
Fully automated lines with robotics for high quality and repeatability and consistency
Liquid coating, powder coating, pipe coating, tank lining
ISO 9001-2008
AS9100: REV B aerospace approved coater
Unparalleled turnaround time
Blasting
Metalizing
QP3
Automatic Coating Gives Back
Some of the organizations that Automatic Coating Limited supports
Scarborough Hospitals
Elizabeth Simcoe Public School
Scarborough Youth Hockey
Veteran Organizations
Salvation Army
One Free World
War Amps
Madduvil Welfare Association Canada
Ancop International Canada
Canadian Breast Foundation
Toronto Professional Fire Fighter
The Princess Margaret Cancer Foundation
JDRF –Juvenile Diabetes Research Foundation
Terms and Conditions of Sale
The term "ACL" refers to Automatic Coatings Limited and the term "purchaser" refers to the purchaser identified on the reverse of this agreement.
Notwithstanding any other terms or conditions stipulated by the purchaser or implied by law or any other representations made by ACL, all of which are expressly disclaimed and excluded, this agreement shall be deemed to contain the entire agreement between the parties save as thereafter amended and agreed to in writing by both parties.
Payment shall be in accordance with the terms herein:
The price shall be F.O.B. point of shipment ACL's plant unless otherwise specified.
Unless otherwise agreed in writing, standard payment terms are net 30 days from date of invoice.
Interest on overdue accounts shall accrue at the rate of 1.5% per month or 18% per annum.
Payments are to be made to ACL in the currency defined in the Contract without deduction or discount.
Where the price is quoted in regard to the quantity and/or dimensions supplied or to be supplied by the purchaser and such quantity and /or dimensions ultimately differ, ACL may adjust the price in accordance with the actual quantity and/or dimensions.
All federal, provincial or other taxes now or hereafter imposed on in respect of the products or services sold or the processing, delivery transportation or sale thereof shall be for purchaser's account and if paid or required to be paid by ACL shall be added to and become a part of the price payable by Purchaser to ACL.
An allowance to seal potential rust bleed areas or pre-clean items that are contaminated due to but not limited to salt, excessive oils, grease, etc. has not been included in ACL's pricing.
Items to be coated are to arrive in a condition suitable for processing and free of design and other imperfections such as but not limited to sharp edges, weld splatter, undercutting, non-continuous welds and inaccessible areas, and defects attributable to such defects or imperfections shall not be the responsibility of ACL.
Special protective packaging is not included in ACL's pricing unless specifically provided for otherwise in writing.
Unless otherwise agreed in writing, provision of special protective measures, including but not limited to erection of enclosures or the provision of heat for field work, are not included in ACL's pricing.
Field touch-up and / or touch-up paint is not included in ACL's pricing.
Unless otherwise specified, shipment of finished product from ACL's plant shall be at the risk of purchaser. For all products priced at point of shipment, the placement, securing and covering of loads is the sole responsibility of purchaser and carrier. ACL shall not be responsible for liability, loss, costs, damages, claims, or expenses resulting from the failure to properly secure and place load or the failure to keep all products clean and dry during shipment. Similarly, damage occurring to product as a result of and which was not fully cured at the time it left ACL's plant, or at the time ACL left the site in the case of field work, shall not be ACL's responsibility.
ACL may refuse to make delivery of the finished product or proceed with a contract until ACL is assured of payment in accordance with the terms of the contract, unless and until ACL is paid and/or receives security satisfactory to it. ACL shall not be liable to the purchaser for any delay arising from or caused by any matter beyond the reasonable control of ACL, including, without limiting the generality of the foregoing, acts of God, environmental forces, governmental laws or regulations, force majeure, riots, explosions, labour shortage, inadequate transport, shortage of and/or delays in delivery of materials and failure or breakdown in production facilities of ACL.
Periods for delivery shall be calculated from the day that complete information and the requisite material has been received by ACL.
All coatings are subject to the tolerances recognized by ordinary usage and practice in the trade.
If the contract provides for purchaser's inspections, such inspections shall be made at ACL's plant, or in the case of field work, at the site, before shipment and within five (5) days after the coating and failing such inspection purchaser shall be conclusively deemed to have accepted the finished product as being in compliance with the provisions of the contract.
ACL warrants only their labour application for one year from the date of completion.
This warranty shall be limited to the repair of defective or deficient workmanship only and ACL shall not be responsible for any other claims whatsoever by the purchaser for any damages, costs or losses whatsoever. Provided, however, that this warranty shall be of no effect unless and until the purchaser pays the contract price and any additional charges, costs, and interest.
Save as otherwise set out in writing, ACL does not expressly or impliedly warrant in any manner whatsoever any materials supplied for, used in or forming part of the finished product. ACL shall not provide a warranty respecting any materials, which includes a manufacturer's warranty and the manufacturer's warranty shall be deemed to be the only warranty for materials potentially available to the purchaser.
ACL shall not be liable for any indirect or consequential damages whatsoever, including, but not limited to damage due to property or contents or any interruption of business. Further, ACL shall not be responsible for damages, expenses or costs whatsoever arising as a result of specifications which are faulty.
The terms of this contract shall be governed by and is to be enforced, construed and interpreted exclusively in, and in accordance with, the laws of the Province of Ontario and the laws of Canada applicable therein.
Back