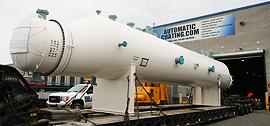 Internal and external pipe coating
Pipe from small bore up to 8 feet in diameter
Approved coater for Enbridge and Trans Canada and Spectra Energy Pipe Line
Tank Lining – Internal and External
High solids and 100% solid epoxy
Automatic Coating Limited has established a reputation as the premier liquid coater in North America & Toronto. ACL has worked on such prestigious project as the Keystone Pipeline, SNC Lavalin Potash mines, Middle East Sulphur extraction project and NHL ice refrigeration project. ACL has the capacity to liquid coat items as large as 16' diameter and 100' long, to various and rigorous coating specifications. ACL has trained and approved applicators for such appliers as Carboline, Amercoat, PPG, SPC, 3M, Denso and Akzo Nobel to name a few. ACL Toronto has state of the art liquid equipment and plural component rigs enabling a wide variety of coating systems to be applied with efficiency and consistently.
Back